Damn it's been a disappointing March and April! (reading-wise of course). I been working my butt of for finals and now I'm going through a bit of a slump. I've started many books, but haven't been able to get past page 20 on any of them. My newfound obsession with Supernatural may be a big contributor! No, I did not binge all 8 seasons on Netflix in under a month and get up to date on season 9! And no I have not gotten my entire family obsessed with it as well and I am not re-watching all the episodes again with them...Sheesh!
Aaaaanyways I will be doing a two month wrap-up because it would be pitiful to separate this, it's even pitiful now! I barely got 6 books done & one was a novella :(
The AMAZING books I've read:
I was SO afraid this book wouldn't live up to all the hype that I saw online, but man, it did! The writing was beautiful, the world building was perfect, and I adored Kestrel and Arin. I neeed more!
Along with The Winner's Curse, this book lived up to it's hype. I loved all the characters, the badassery, and I bought Crown of Midnight immediately after and will be reading it very soon!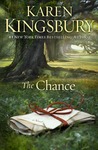 My sister had be read this in exchange for her reading (and loving) Divergent. I was skeptical of this book because Karen Kingsbury is a Christian author, and though I believe in God, I was worried this book would be preachy, and I can't do preachy. BUT! This was not the case. Oh my goodness this book was so sweet, so fun, so sad, so EVERYTHING & I adored it!
"For fans of The Hunger Games"! Ha, this is one of those series that has that on the cover but this has NOTHING in common with THG. For one, the conclusion,
Horde,
was so unbelievably good and I was 110% satisfied with this ending.
The MEH books I've read:
Now, I did give this book 4 stars because I really did enjoy everything about it, but it just wasn't one of those novellas that stuck out at me like
Destroy Me
and
In Time
This book was fascinating, but the characters drove me nuts! Over and over again Kate claimed she wasn't in love with Vincent, but the writing and actions of the characters said otherwise and it really annoyed me. I gave this book 3 stars on Goodreads.
So now, I have about 5 or 6 books that have at least 20 pages read, but right now I'm hooked on Attachments by Rainbow Rowell & this is gonna be the book to pull me outta the slump! It's such a fun read :)

So overall, I've read 3 "real" books (don't judge!)


So hopefully I will get more than a pitiful 6 books read this month since I'm done with school!